[ Home ] [ C5 Hitch ] [ Relates Sites ] [ Photo Album ] [ Racing Sites ] [ What's Hot! ] [ C5s For Sale ] [ MA Clubs ]
C5 Bike Rack
By Paul Eggermann


C5R Member #W1471


Milltown, New Jersey


paulpegg@msn.com


My wife and I have recently retired and plan lots of travel in our 99 coupe. We are avid bike riders and have always taken our bikes with us on top of our Jimmy. Of course the Jimmy is an awful ride and is a gas-guzzler to boot. I tried disassembling the bikes and stuffing them into the rear cargo space of the Vette. This worked but then there was no room for even one suitcase. Bob Baker recently posted a piece on his web site about pulling a racing trailer. CLICK. I ran out to my local bike shop and found that they had a Thule Model 922 Space Station Base hitch mount that plugs into a 1-1/4" trailer hitch along with a Model 923 Rak-N-Loc two bike carrier. These two items cost $130 and $145 respectively. A quick search for trailer hitches on the web pointed me to the DaLan Model D257239 for the C5. The factory in Shirley MA (1-800-325-2613) was out of stock but they sent me to Perrine Trailer Hitch in Miami (1-800-852-6911). They had it in stock ($122.00 plus shipping) and shipped it to me overnight for an additional $63.00. I was in a big hurry since I was leaving on a trip the next day.

You can find these items on the web at http://www.ageebike.com/thule.htm and www.hitch-web.com and get better prices if you don't mind waiting a while. I decided to do this project at noon on Wednesday and was on the road with the bikes mounted at 1:00 PM on Thursday.

Once UPS showed up at 9:30 AM on Thursday I was off to a local off road shop who had agreed to mount the hitch for me. This is supposed to be a 45 minute job. RIGHT. Maybe after you have done it a few times. This was their first Vette job and they were very, very careful. It took them two hours to get it in. The biggest problem they had was that there is a large hole to be drilled in the center of the rear cross member to allow two of the 7/16" x 2" carriage bolts with backing plates to be fished into place with a wire. They did not have a large enough drill that could cut this heavy gauge steel so out came the Sawsall and some very tight cutting. Hint: push the fish wire through the small bolt hole towards the access hole and then put the bolt and plate on the wire and pull it down into the hole. This will save a lot of time compared to putting the bolt on the wire and then trying to feed the pull end of the wire through the access hole down into the bolt hole. I bit my tongue for 10 minutes until I couldn't bear to watch any longer and suggested this to the mechanic doing the job. He thanked me for the idea and finished up fast from there on.

Mounting the Thule system took all of 10 minutes and we were on our way. I did notice an impact on gas mileage. We drove to Vermont from New Jersey at a leisurely 80 to 85 MPH. Gas consumption on this trip is usually 28.5 mpg but we averaged 26 mpg with the bikes on the back. They stick up a bit and obviously added some drag.

The hitch is a class A part. It fit perfectly and came with high quality bolts and simple instructions. Thule makes the best bike racks in my opinion. The tilt down space station is a little overkill for a Vette with no rear door but I can use it on anyone's 1-1/4" hitch.

Here are some pictures of this job.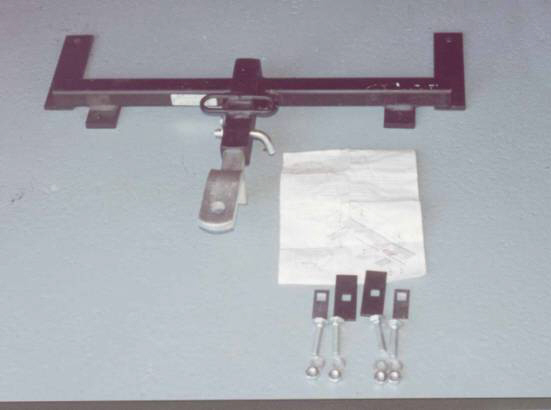 The hitch with mounting bolts and instructions.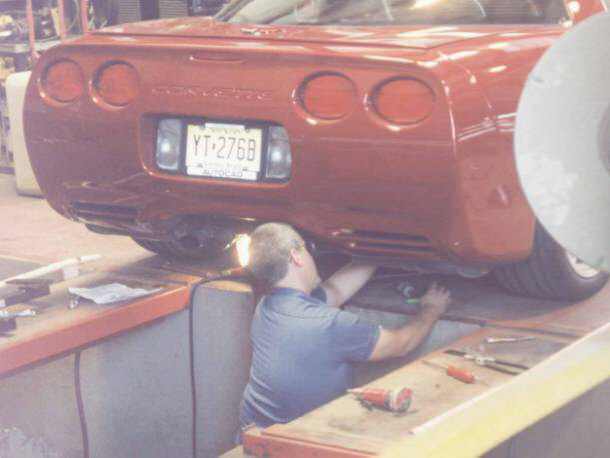 Drop the mufflers and drill 5 holes.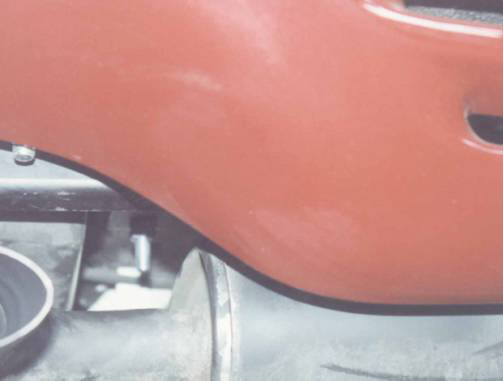 Two bolts on each side. These bolts are extra long to help prevent pushing them back into the frame while positioning the hitch.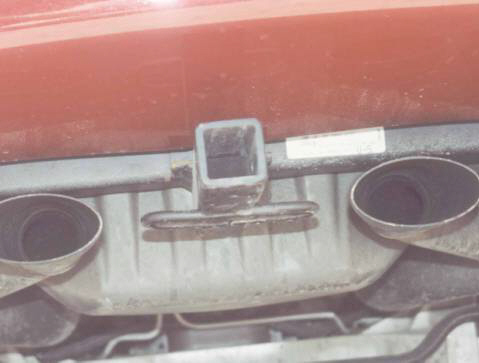 The finished job.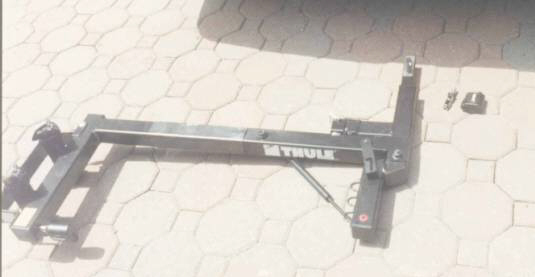 The complete Thule rack.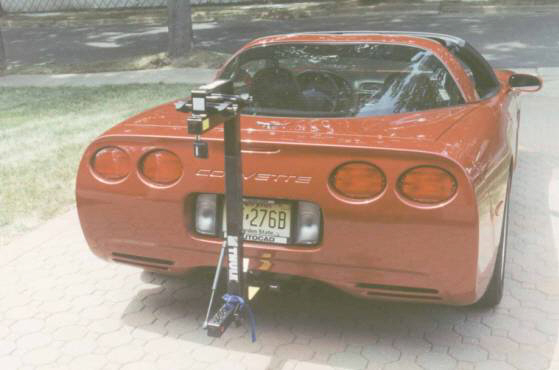 This is a plug-n-play installation from here on.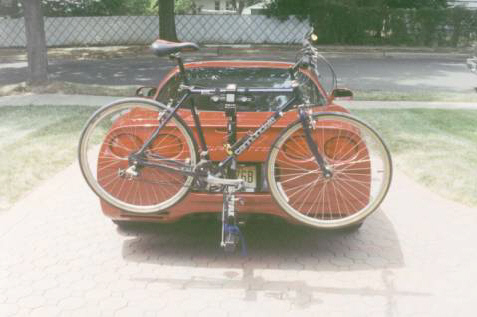 There is some impact on the rear view but I managed to work around it.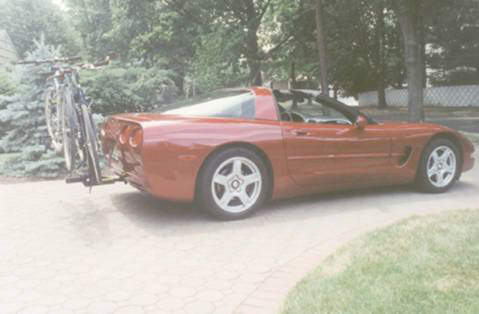 Fully loaded with two bikes. A few bungee's kept the wheels from spinning and everything tight against the post.