The NEW Millennium Yellow C5 Corvette for 2000!

New page listing MA Corvette Clubs (check upper right corner for MA Clubs).
Look for a New England Corvette Events Page for 2000.
After seeing the stock wheels CHROMED, don't waste your money on the polished rims...having them chromed looks way better!!!!!

Check the "What's Hot!" for pics of the new Dark Bowling GREEN C5, the new C5-R and Cadillac LMP, plus the Bragg-Smith Driving School.

Click here for info on the May 2000 "Corvettes on the Cape Fun Rally"
Check out this new Internet Corvette Magazine. Just click on the picture below.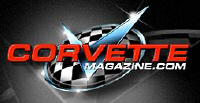 Below is my Millennium Yellow 2000 Coupe with Oak Interior and Power Curve Exhaust by Mid America

click to hear it
Slide show shows "before" and "after" of new C5.
Note the Yellow Calipers and the Mallett rims (18" on all 4's) Tires are BFG G-Force 265/35/18 front and 295/35/18 rear.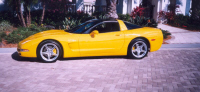 Here is the new C5-R race car for 2000. Should 1st appear at the Rolex 24hr of Daytona, in February of 2000. For more info in the Rolex 24hr click here.

Click here for a nice pic of a BLUE FRC 2000 C5
A pic of the 3 types of 2000 C5's, in RED
Take a look around to learn more about the C5 Corvette, see why people all over the world are driving and enjoying their C5's , and look at pictures of events involving the C5 and motor sports. Included are links to other C5 sites and aftermarket dealers. Also, check out our new C5 Corvettes For Sale Section.
Thanks for visiting the Web Site!
Bob Baker


Lobsters

Send us E-Mail

You are visitor #
Click here to view Awards Received:
Last modified on 01/17/00