Here are some pics of the Rolex 24hr at Daytona on February 5th and 6th. The C5-R Corvette finished 2nd overall. In an earlier 3hour race on Friday, the C5 Corvette bested Porsches and Vipers to finish 1st. Quite a weekend for the Corvette.
Dan is there to greet us and get us lined up for the big PACE LAP!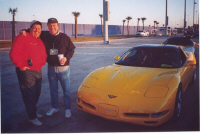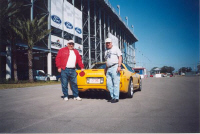 The YELLOW 2000's are lined up 1st to lead the parade of over 190 Corvettes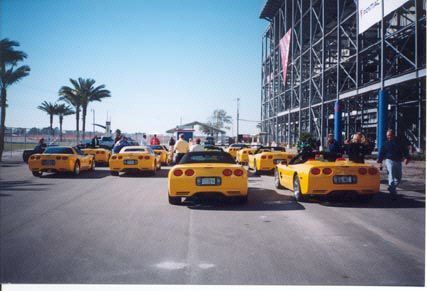 Can't get all the cars in one shot so have to take sections.
This is my favorite shot taken by my co-driver Rick Long
More shots of the Corvettes lined up to do the pace lap.
Out onto the track. What a view of the pace car from the "pole".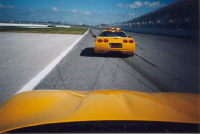 Down the front straight and through the infield. Pace car moved along nicely!
The #3 Car before the race began.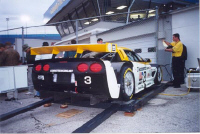 The garage area and the C5-R's. How about that engine!
Here are the drivers of the #3 car. Andy Pilgrim is in the middle.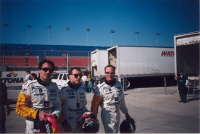 Here is the Caddy...never thought I'd ever see one at Daytona! That digital steering wheel is something else.
Finally, Paul Newman and his 18 year old co-driver waiting to do an interview via satellite. Not sure what the car is but they were tons of them there!!!!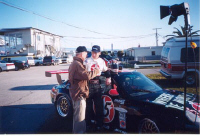 That's it. Hope you enjoyed the pictures half as much as I enjoyed being there to take them!
Oh, just one more. Rick Long sent me this one. Sunday, during the race, we were doing lap times of the Corvette and the Viper. Oh, for just 30+ more seconds....