Some pictures of past experiences
Click for C5 Registry Birthday Bash Pics

Click for pictures of a C5 at Monaco GP
Click for pictures of the 1999 Rolex 24hr of Daytona
Here are some shots taken at two recent autocrosses at Bose in Framingham, MA. Event was put on by the Bay State Corvette Club.
On the left is from the spring event and the right is the fall autox.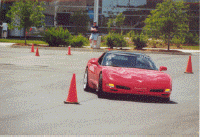 Picture taken at Thompson Speedway in April 1997. Had a tough job this day. Invited by GM to be an instructor for 6 auto writers who were previewing the new C5. GM rented the track for the day, brought 6 new C5's for us to play with, and once the reporters were checked out in the cars we all made some high speed runs on a fairly quick autocross course setup on the track. Here I get to take a few laps in my own car. The fun factor was clear off the scale!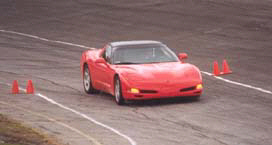 Here's my old 94' autocrossing at Otis Air Force Base. Still holds the Super Stock fast time!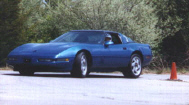 Another job I've had the pleasure of doing is Timing and Scoring for both CART and the Indy Racing League. Here are 2 pics from last year's Indy Racing League event at New Hampshire International Speedway. My friend Bob Taylor is on the left doing pit out and I'm on the right doing radar speed checks on pit lane. Great seats too, right next to Tony Steward's pit. The picture on the right is of Tony getting out of his car after a practice session. We were stationed here for practice, qualifying, and race day.
The next photos were taken in 1993 at New Hampshire International Speedway on Labor Day. This particular morning someone locked the keys in the Corvette Pace Car. My C4 got the call to service and Mike Joy (now famous NASCAR announcer) and I did the pace car duties. Here we are leading the cars over into the last turn onto the front straight. On the right, we fire down pit lane as the cars behind us (out of photo) start to race.