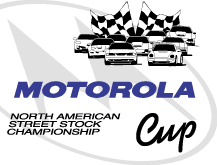 FINAL RESULTS FOR MOTOROLA CUP- SGS Round 1-Daytona Rolex 24 Hours on February 3-4 2000 Daytona Rolex 24 Hours
1st SGS CONWAY/TONELLI Powell Motorsports/Chevy C5 Corvette driven by Peter Tonelli Northboro, MA and Craig Conway/Daytona Beach,FL
Click here for the Powell Motorsports page. C5 driving school info too.
Click on any of the images below for a big pic.
C5-R with the new engine!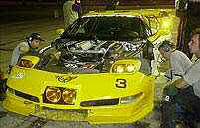 Hey, how do we get that 427 engine?

C5-R pictured below taken at practice for Rolex 24 hour at Daytona Feb 5-6, 2000


Here is the C5-R # 3 during practice

Here is a photo taken of the new C5R in race trim and new paint, practicing for the Daytona 24hr Race. This was taken on January 7, 2000. Ron Fellows is at the wheel and posted the fastest time in his class (GTO) for the February race.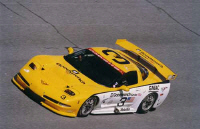 New Millennium Yellow Pace Car for the Rolex 24hr in February 2000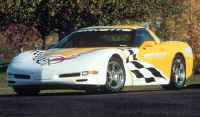 Here is a picture of the Cadillac Le Mans Prototype (LMP) SportsRacer testing at Daytona on January 7, 2000 with Wayne Taylor driving. See this fabulous car race this February at the Daytona 24hr and later at Le Mans. Last time a Caddy ran Le Mans was when Briggs Cunningham raced a custom-built aero-dynamic body and a Coupe de Ville back in 1950. They finished 11th and 10th respectively. The 2000 version below is powered by a 4.0-liter version of the Cadillac Northstar V8, with dual turbo chargers!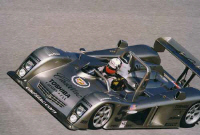 For more info on the Rolex 24hr click here-->


Click here for more on the Caddy race car, from GM
You own a C5 and want to learn how to REALLY drive it? This is the school. A MUST for any new Corvette owner. Three days of sheer pleasure in a C5. Don't miss this one.
Bragg-Smith Advanced Driving School in Nevada. Info 1-800-391-6891.
They have 10 C5's, a 2.2 mile road course, and you'll have the time of your life!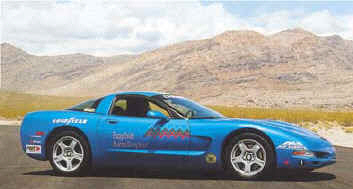 Click to HEAR the Borla XR-1 race exhaust!
Here's the new Dark Bowling GREEN Metallic 2000 Corvette
CLICK on any picture for a larger view!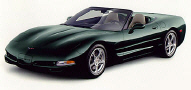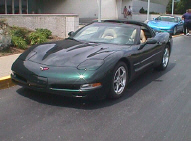 Here's a good look at the new polished rim.